Maya Jones



Birthplace:

Bridgeport

Parents:

Michael Jones (father)
Jun Jones (mother)


Family:

Evan Jones (grandfather)
Jamie Jones (grandmother)
Johnny Five (paternal uncle)


Spouse:

Children:

Traits:

Athletic
Insane
Perfectionist
Nurturing
Virtuoso

Residence:

Bridgeport (formerly)
Appaloosa Plains (formerly)
Starlight Shores
Maya J. Jones
is one of the main protagonists in Damo's
Let's Play The Sims 3 Generations and Pets
 and 
Let's Play The Sims 3 Showtime and Seasons
. Maya was born in the City of Bridgeport, but then moved to the small town called Appaloosa Plains with her parents
Michael
,
Jun
and her paternal uncle
Johnny Five Jones
. Soon after, they also adopted a Siberian Husky named
Snowy
.
She shows signs of musical talents, that might imply that she inherited Jamie Jones' excellent music skills. She is friendly towards the neighbor and Ethan Parrott, who was her first boyfriend. They later went to the prom together, seemingly enjoying themselves despite the loss of Maya's parents.
Maya always was known as an spontaneous girl and has rebellious tendencies which have gotten her into trouble on numerous occasions and resulted in a glitch causing her to sneak around all the time even when not grounded. The Herald of the Plains newspaper seems to favour her mischievous actions as a teen. On Part 75 in the Generations and Pets LP Maya Jones aged up ino a Young Adult and graduated a day later.
Maya aged up into a young adult a day after her father's death, but quickly stopped mourning so she could focus on her Lifetime Ambition. Maya wanted to become a One Sim Band and she then moved to a rich and glamorous town called Starlight Shores with her uncle, dog and fiancee Ethan Parrot to focus on her goal. Soon after moving to Starlight Shores, Maya got married to Ethan, her uncle Johnny moved out with his girlfriend (at the time) Kerry, a mysterious genie joined the household, and Maya and Ethan had a little boy named Joffrey.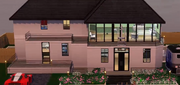 All five of them (Maya, Ethan, Luis, Joffrey, Snowy) decided to move to a new house in Starlight Shores so they could be closer to the beach, and so Joffrey and (other child) could have more room to play outside when they get older.